The Daisy Airgun Museum, located in downtown Rogers, Arkansas, is a non-profit corporation which preserves and promotes vintage products and artifacts of the historic Daisy company while serving as a national tourism destination for Daisy fans and collectors.
The success of the Museum is dependant on admission, product sales, donations and memberships. We invite you to join the "Friends of the Daisy Museum" to help us maintain this wonderful facility for future generations.
Daisy Commemorates the 100th Anniversary of the Model 25



Next to the Red Ryder, no other model of airgun is more closely identified with the Daisy brand than is the Model 25, pump gun. 2014 marks the 100 year anniversary of the famous pump gun, designed by Fred Lefever in 1911 and first produced by Daisy in 1914.
---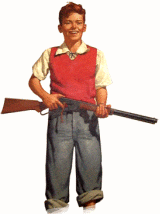 Welcome to Rogers Arkansas!
If you can come to Rogers, Arkansas, we'd love to meet you and to hear your Daisy story. If you can't make the trip right now, we're hopeful that this website will serve as a virtual tour for you and that you too will read our history, visit our online giftshop, share your story with other online collectors and even pick up an exclusive limited edition collectible.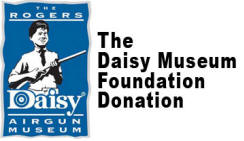 The board of directors of the Rogers Daisy Airgun Museum, a 501(c)3, requests that you consider a donation to the Museum's foundation.
Our long-term goal is that the annual asset improvement of a growing foundation would, someday, entirely underwrite the Museum's operating expenses.